Spa & Hot Tub Care
THE NATURAL
The NATURAL is packed full of LANOLIN, GLYCERIN, VITAMINS and SEAWEED. The NATURAL'S unique blend of ingredients SMOOTHS and SOFTENS skin. Skin does not dry out or feel itchy. The NATURAL is user friendly to eczema prone skin. The NATURAL removes the smell of registered sanitizers and prevents them from drying the skin. Chemicals such as chlorine and bromine.
The NATURAL is 100% natural and safe to the environment. FEATURES:
Conditions – no dry or itching skin
No smell – eliminates chemical odors from hot tub while it aids the sanitize.
Clear and Clean water
Maintains Ph Balanced P H
No tub staining -prevents tub ring by suspending body oil lotions in water and coats hot tub surfaces
Makes you feel good by treating your skin with Vitamin E
An EASY liquid to use
APPLICATION
Pour in one (16) oz bottle (for up to 500 gallows) in hot tub once every three (3) months
After One (1) years of water use. Drain the hot tub and start again. Yes, you only need to drain the hot tub once a year. You see by reducing the harshness of the drying sanitize no soiled matter builds up in the hot tub water. Generally, after one year use, the water will no longer maintain PH.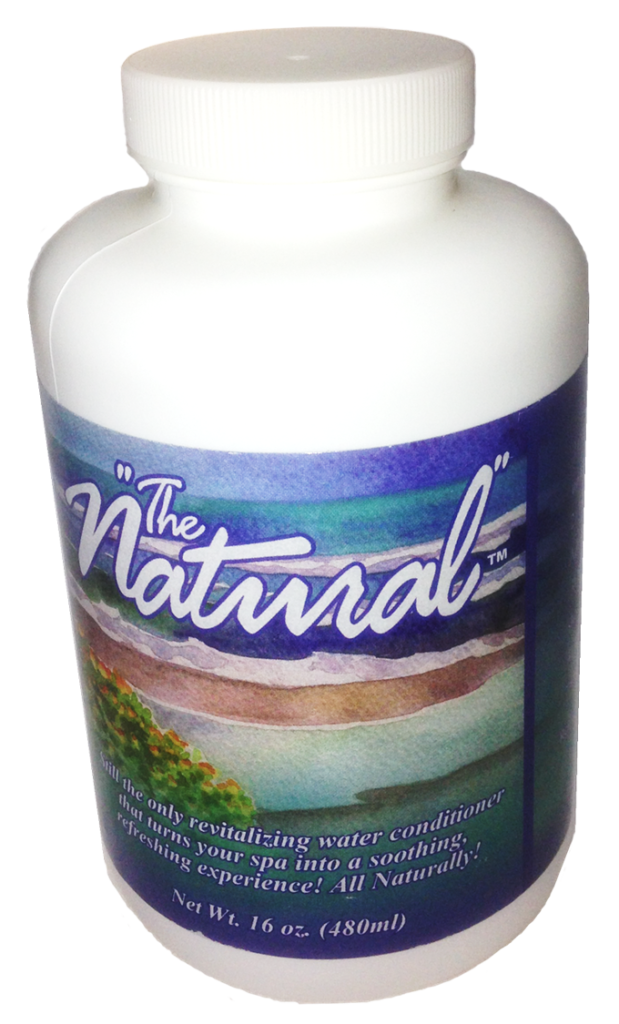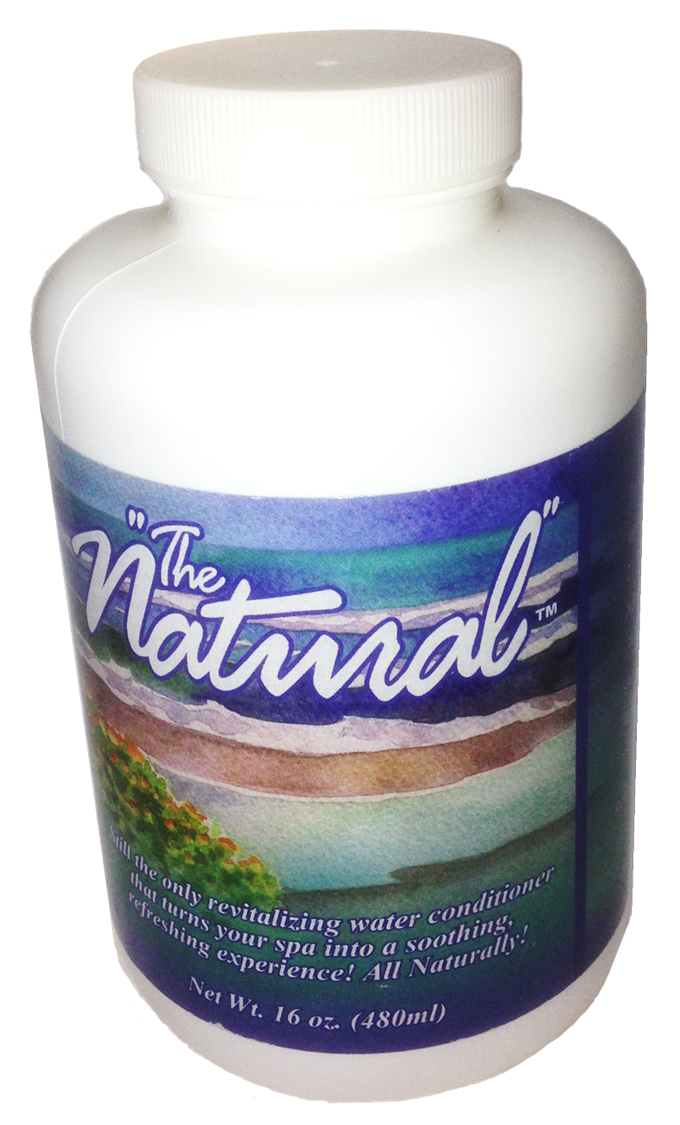 THE NATURAL PURGE
The NATURAL PURGE in an ONE time application that rids your hot tub of contaminants and toxic build-up. When you purchase a new or used hot tub the plumbing lines are not necessarily clean. The NATURAL PURGE cleans every nook and cranny in your hot tub while you do nothing but wait. The NATURAL PURGE coats the interior plumbing lines so there is no build up. The NATURAL PURGE is a non-toxic, non-caustic solution that can extend the life of your hot tub. The non-toxic enzyme formula dissolves away chemicals deposits hidden deep inside your hot tub that may cause irritating and itching.
FEATURES
Natural and gentle ingredients
No harm to you, your hot tub, animals or the environment.
It may be used in jetted bath tubs
Won't damage hot tub pillows or covers.
Greatly extends the life of your hot tub pump
A liquid that is EASY to use
Add a bottle to your hot tub five (5) days before doing a water change
APPLICATION
Remove hot tub filter
Add 16 z bottle of the Natural Purge to heater water
Circulate for a least 8 hours per pay for 5 days
Drain hot tub
Flush hot tub with clean water
Hot tub is now ready to be filled with fresh water and The Natural
If the hot tub is 5 years or older two (2) bottles of the Natural Purge made be necessary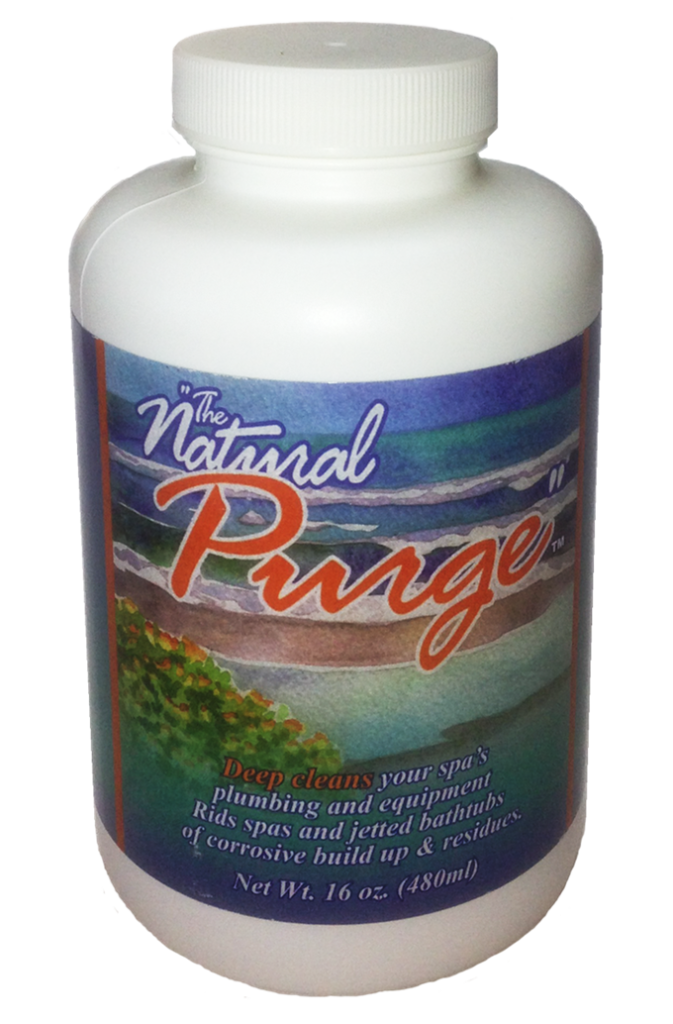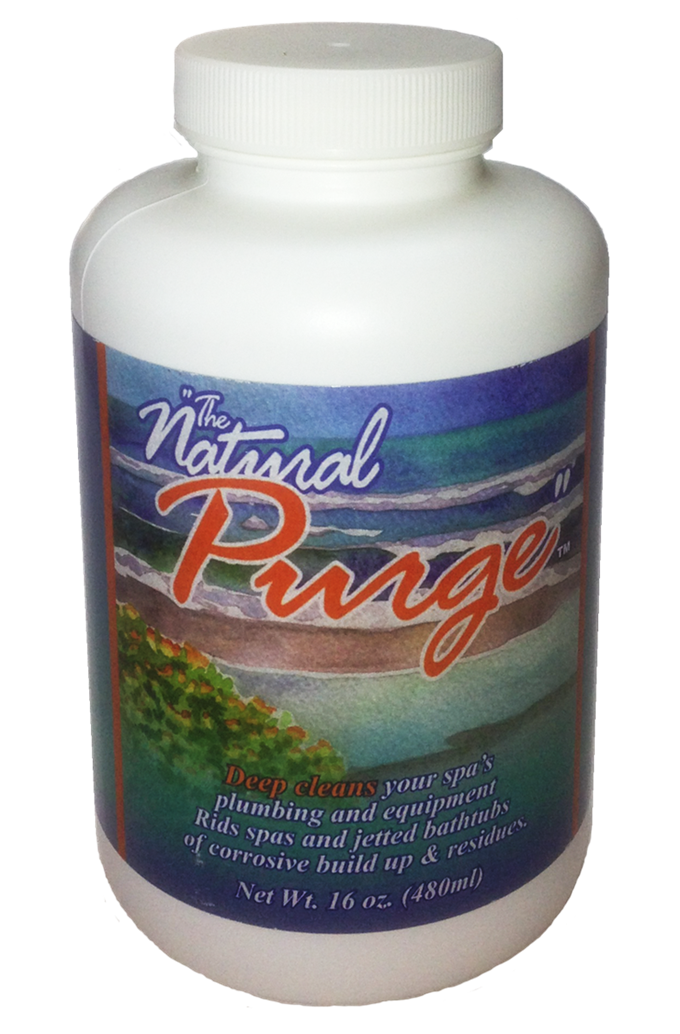 The First Filter
The First Filter is a ten micron polypropylene filter that purifies water by collecting soaps, oils, hairs and other suspended microscopic particles before they reach the pleats of a primary filter cartridge. The contaminants are taken out of the water by getting stuck in the polypropylene and by absorption into the material. The First Filter helps remove contaminants bacteria feed on. The First Filter attracts anything and all things in the water and does not leech them back into the water. The fabric that makes up the First Filter is similar to material used to contain oil spills from ships at sea. Great for people, animals and the environment. The First Filter should be used for three months and then should be replaced. It can be clean within the three months with a sink faucet or dishwasher.FIRST FILTERS
FEATURES
Fabric that is similar to material used to contain oil spills from ship at sea
Fabric will show contaminants immediately
Small, light weight, flat and easy to install.
Can use any type of water even to help remove metals
Makes clarifies, scum digester, cleaners or defoamers work better
Healthy for you because the water is cleaner
Can be clean with a sink faucet or in the dishwasher weekly
Only has to be replaced every three months
APPLICATION
Place the First Filter on top of the skimmer basket.
Lock First Filter tabs into existing slots on skimmer basket
Watch it work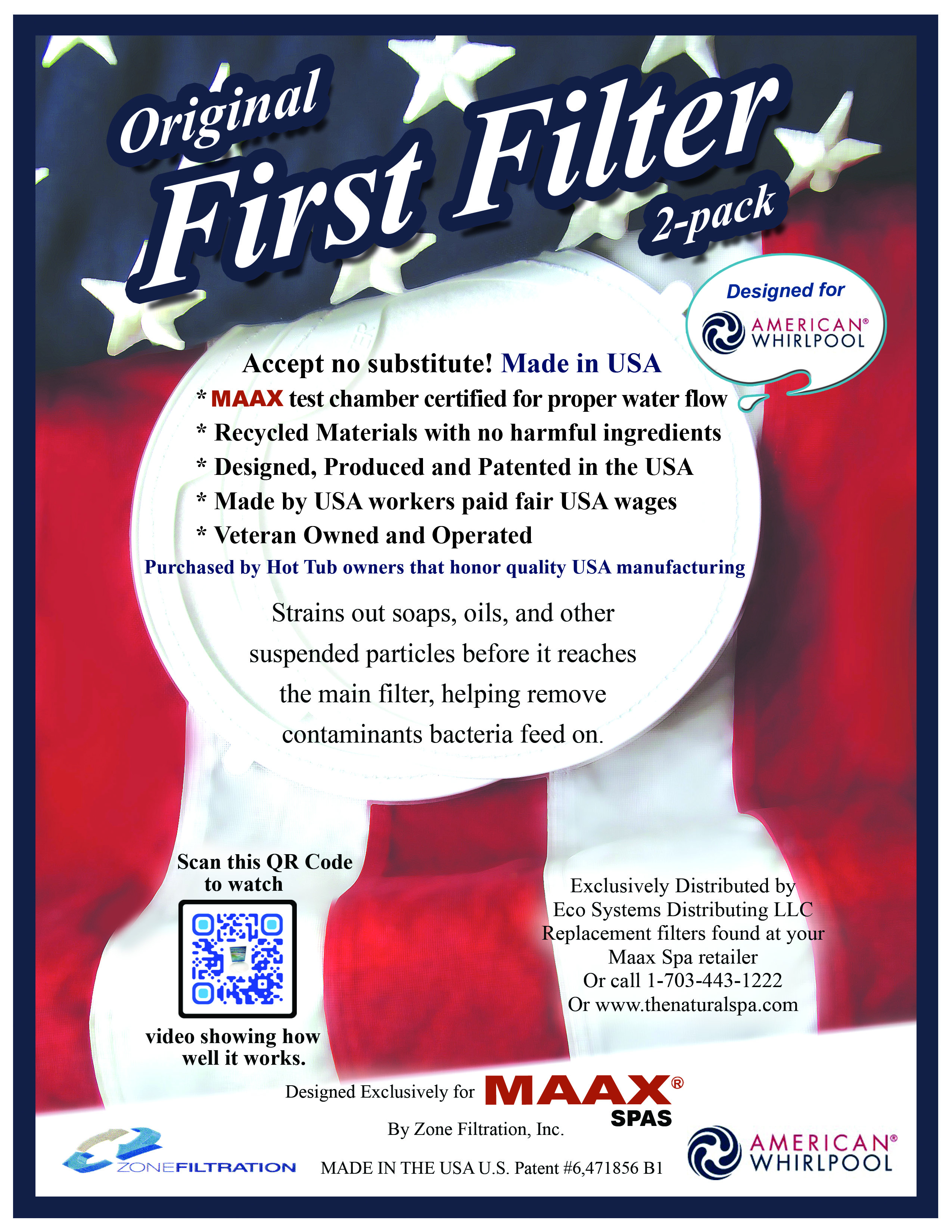 The SPA PAW
The Spa Paw is a mitt to wipe a hot tub. It does the job without the need of any detergents or cleaners. The SPA PAW is made from polypropylene, a material that removes contaminants and body oil from the walls of the hot tub. It is a powerful cleaning glove designed not only for hot tubs but it is a multiple household cleaner. Cleans shower doors, sinks, stove tops and more. Try it on heavy jobs, even to clean the haul of a boat.SPA PAW
FEATURES
Fits any hand
Material used to contain oil spills from ships at sea
Mitt does not need detergents or cleaner to clean
Multiple purposes
Machine washable
APPLICANTS
Fit on hand
Wipe hot tub or household appliances